My daughter knew right away. She loved her group skating lessons, and wanted more; private lessons with a coach, and competition. Not recreational competition for fun, but to compete in a serious way as an athlete. I was now a "Skater Mom" to a competitive figure skater.

My mind instantly flashed back to the infamous moment in 1994 with Tonya Harding and Nancy Kerrigan. Initially, I was concerned about my daughter's involvement in skating. My concerns were quickly set aside as I met great skaters, parents and coaches. Our experience in figure skating has taught us great life lessons and was very positive.

I am left still asking questions about that event in 1994 which grabbed the attention of the world.
​
Nothing compares to theater in exploring questions, and I was excited to attend a preview of T. at American Theater Company in Chicago (ATC) today. T., named for Tonya Harding, explores the psychology of underdogs, desperate to rise above their class. ATC hosted a pre-event conversation at a nearby coffeehouse in which the Artistic Director, Playwright, Director, and an international level skater joined an ATC moderated conversation. Topics touched on class, seeds of reality TV, tolerance of "doing whatever it takes" in society to get ahead, body image, underdogs and Tonya's skating talent. Of course, I couldn't help but touch on figure skating dresses a bit.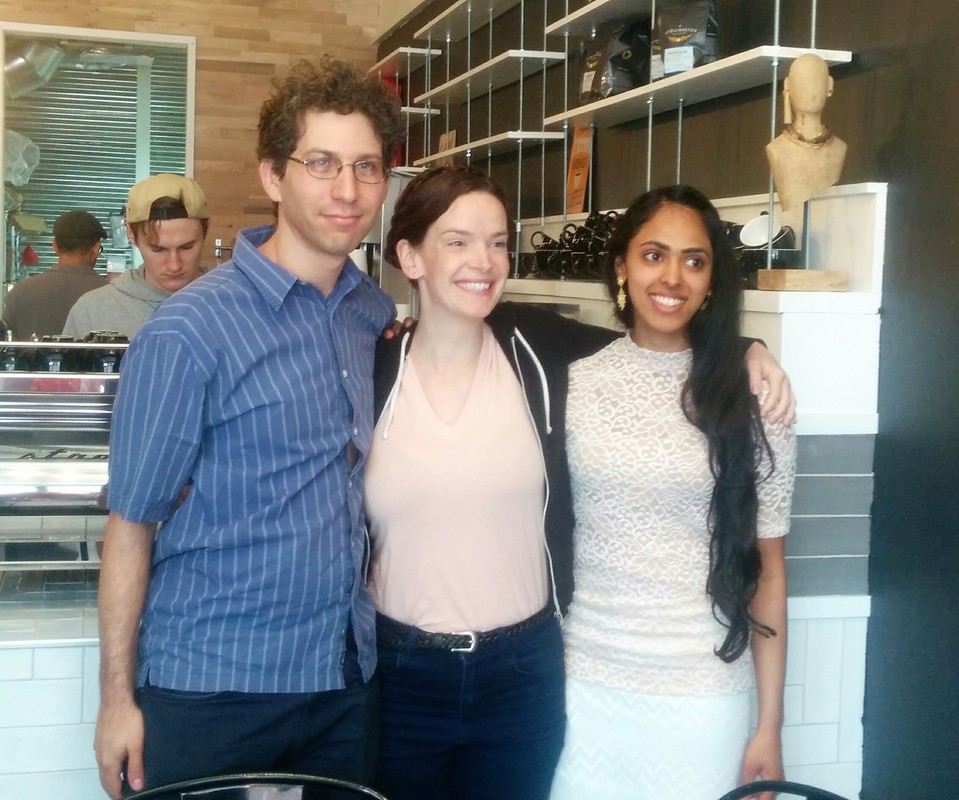 Playwright Dan Aibel, Director Margot Bordelon, and Skater/Coach Ami Parekh
ATC does a fantastic job of providing a view into the creation of theater; a chance to meet the artists and gain insight. I walked out of theater with a different perception of the characters, and I'm grateful to the cast and crew for the performance. The actors were so gracious with their time after the show.
I think you'll love
T
., which runs May 18- June 25. Tickets can be purchased
here.
Note: Sk8 Gr8 Designs is not affiliated with ATC, we're just big fans! Love skating, Love theater!